This pear feels sorry for itself...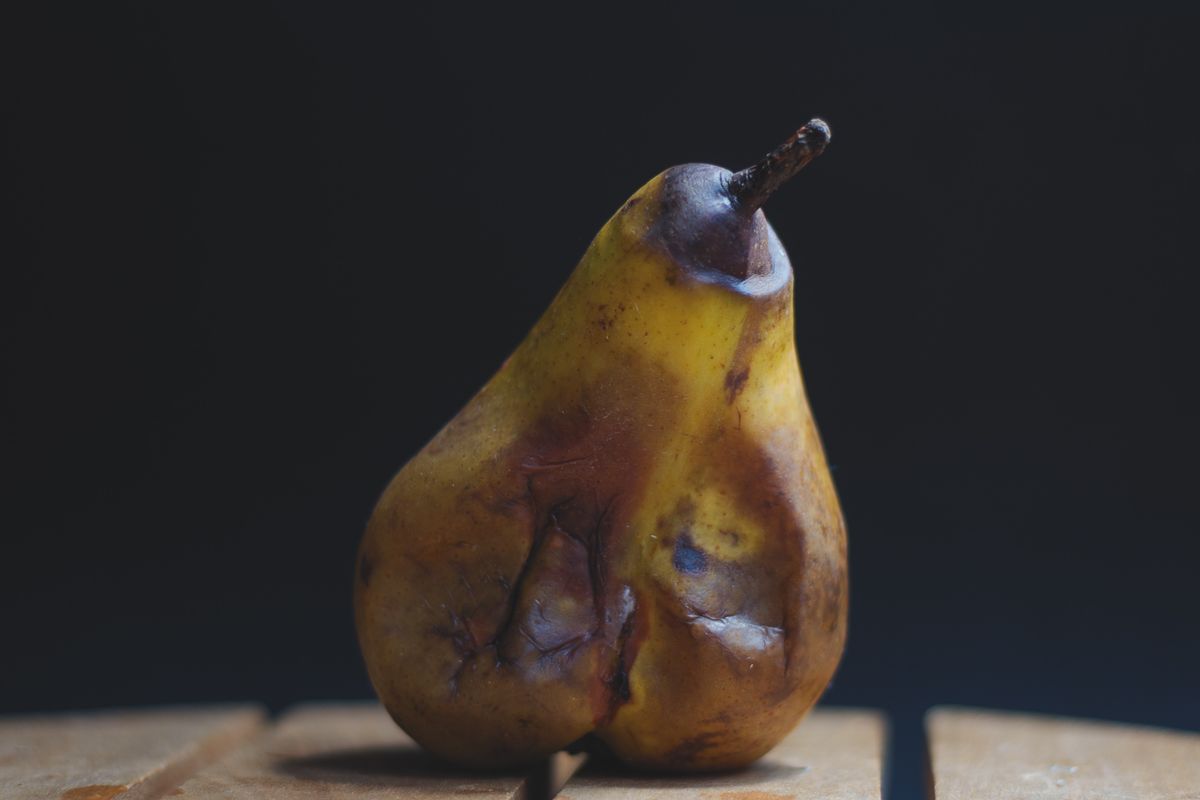 Fotios is one of my attachment cases. He was adopted when he was 4 years old, by two wonderful parents and has history of a stressful birth (in-utero anxiety) and severe neglect as a baby and a toddler.
Fotios is now 18, so he is an adult. I have been working with him the past 2 years. In the initial Occupational Therapy (OT) assessment he presented with some learning difficulties and sensory processing disorder (SPD) (apart from the trauma). Fotios has been working on his sensory processing development and he seems now more aware of his life story and ready to receive psychological-based support to sort his thoughts and feelings so that he is confident for himself and valuable for the others.
Every time he comes for a session, he will seek rich input/feedback through his muscles by pushing heavy furniture, pulling ropes, throwing balls at various targets, as if he wants to express his anxieties and fears. So, this is what I'm offering to him. Space and time to release what's hidden inside him and whatever his CNS needs.
He will never initiate a discussion, or share his news, or ask any questions. We could be there silent for 45 minutes, no talking, just executing activities and designing obstacle courses. He rarely shows any emotions, so I'm always ready that at some point he might show something.
So, one day, whilst he was sat on a swing, he said.
-I feel bad for my friend Harry.
- why? I asked.
- Cause he does not have a good family like I do, he replies.
-What's the issue with his family? I continued.
- His parents just got divorced and they are in court trying to see who's (not) gonna take him to live with.
- So, how does Harry feel? I asked again, as I did not want to miss the moment.
- He wants to kill himself, Fotios says and gets emotional ('this is so rare', I'm thinking now). For example, when we ride our bikes, he will not wear his helmet, and the other day he told me and our friends that he feels like number 0.
- Zero?
- Yes, zero and we all got very scared. And then he continued saying that he feels sorry for himself and wants to disappear asap!!
Then, silence again. Fotios picks up a weighted blanket from the floor and throws it with all his power inside the ball pool (that was apparently a good choice; one month ago, he threw the same blanket straight to the window and smashed the glass, so Yeah, a lot better this time 😊).
The session finished and I was left there thinking what one of my colleagues said when she saw this forgotten mature pear lying on my desk...
'Oh Neki, this pear feels sorry for itself', meaning you'd better eat it before it get rotten.
Same with Harry. He'd better receive some help from somebody before he gets rotten as well.